British Heart Foundation Features Breakthrough Heart Attack Prevention Technology in Online News Programme for World Heart Day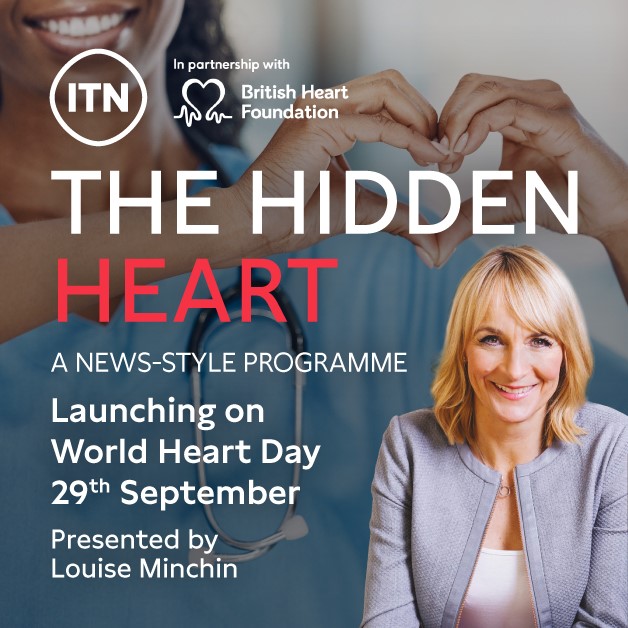 Press Release
British Heart Foundation Features Breakthrough Heart Attack Prevention Technology in Online News Programme for World Heart Day
CaRi-Heart® Users share Excitement on Potential for Heart Attack Prediction and Prevention
Oxford, United Kingdom, September 29, 2023— On World Heart Day, Caristo Diagnostics Limited, a global leader in cardiac and vascular disease diagnostics and risk prediction, confirms that its CaRi-Heart® technology has been featured as part of a British Heart Foundation (BHF) programme anchored by presenter and journalist Louise Minchin on ITN Business  (link to CaRi-Heart segment or watch the entire programme). The CaRi-Heart technology, which was developed with funding from the BHF, harnesses artificial intelligence (AI) to analyze images of the heart arteries and predict the likelihood of a heart attack – based on information that is not otherwise available using current diagnostic techniques.
According to BHF, there are around 7.6 million people in the UK living with heart or circulatory disease, and many more who are, but don't even know it yet, because their condition is hidden or silent. On this year's World Heart Day, the British Heart Foundation launches The Hidden Heart programme to explore hidden heart conditions, innovations in research and new treatments. The programme features Caristo's CaRi-Heart technology, with insights from the technology's scientific inventor as well as a clinical user and a patient. The CaRi-Heart technology can uniquely detect coronary inflammation, which research has shown to be a strong predictor of cardiovascular disease progression and mortality, but is not visible in any other routine heart scan. Clinicians can then use this new information together with quantification of plaques, all provided by the CaRi-Heart platform, to identify at-risk patients more effectively and optimize their treatment, so future cardiac events can be prevented.
"Around 200,000 patients every year undergo a cardiac CT scan to look for disease in the heart arteries. Of these only 20% are seen as having significant artery narrowings that are acted upon, the other 80% are archived," said Professor Charalambos Antoniades, British Heart Foundation Professor of Cardiovascular Medicine at the University of Oxford. "That means potentially tens of thousands of people in need of treatment are overlooked because plaque alone is not as predictive of future heart attack risk as the combination of plaque and inflammation."
Dr Tom Hyde, consultant cardiologist at the Great Western Hospital in Swindon and lead clinician at Cotswold Cardiology, has been an early adopter using CaRi-Heart results to assess his patients' heart conditions. "Inflammation plays an important part in the development of coronary artery disease and is a strong predictor of disease progression and cardiovascular events such as heart attacks or death," commented Dr. Hyde. "Traditionally, there has been no way for us to see or measure coronary inflammation. With Cari-Heart technology we can now identify people with hidden risk and take preventative measures early on. In addition, seeing the visual improvement in coronary inflammation levels gives my patients the reassurance and peace of mind, that cannot really be put into words. Seeing is believing."
The Hidden Heart programme interviewed one of Dr. Hyde's patients, who received CaRi-Heart results twice during the last few years.
British Heart Foundation was one of the earliest supporters of Professor Antoniades' research to predict heart attacks years before they happen. The research led to the creation of Caristo Diagnostics and its development of the CaRi-Heart platform for heart attack prediction and prevention. "BHF is one of the very few funders in the UK to support early-stage cardiovascular research. The scientific breakthrough behind the CaRi-Heart technology would not have been possible without early support from them, and that is why BHF funding is so crucial for this kind of research," said Professor Antoniades.
ENDS
Watch the CaRi-Heart segment:
Contact
Frank Cheng, Caristo Diagnostics CEO
About Caristo Diagnostics Limited
Caristo Diagnostics Limited is a global leader in cardiac and vascular disease diagnostics and risk prediction. Founded in 2018 as a spin-out company from the University of Oxford, the world's #1 research university, Caristo has developed a portfolio of imaging-based and AI-assisted platforms that can be applied to aid the prediction and diagnosis of heart attack, stroke, and diabetes. Caristo was highlighted by Nature in 2020 as one of the most exciting science-based companies to have emerged from academic labs. To-date Caristo has attracted over £23 million in venture capital investment (nearly US$30 million). Find Caristo online on its website, LinkedIn and Twitter.
About the CaRi-Heart® Technology
Named first of "7 Technologies That Could Change Heart Healthcare Forevermore" by the Robb Report, the CaRi-Heart technology is Caristo's flagship offering, which aids coronary artery disease diagnosis with improved risk prediction. It applies advanced AI algorithms to routine cardiac CT scans to visualize and quantify coronary inflammation, which is the previously invisible root cause of the disease. Each patient's CaRi-Heart report includes several clinical results: (1) the patient-specific Fat Attenuation Index ScoreTM (FAI ScoreTM), a novel and patented biomarker for the measurement of coronary inflammation, which indicates the patient's risk in % relative to a matched peer group; (2) CaRi-Heart Risk, which assesses the absolute 8-year risk of a fatal heart attack (based on both coronary inflammation status and standard clinical risks factors); and (3) coronary plaque-specific characterization and quantification. The CaRi-Heart Analysis is supported by the CaRi-Heart software, which is cloud-based and agnostic to the type of scanner generating the routine cardiac CT images. The CaRi-Heart technology is CE Mark certified under the latest EU MDR, with UKCA marking having been received in September 2022. The CaRi-Heart technology is limited to research use in the U.S. before the FDA grants marketing authorization.
Multiple patents underpinning CaRi-Heart technologies have been granted in major jurisdictions around the world. In addition, exceptional validation results showing CaRi-Heart technology's ability to aid the prediction of heart attacks have been published in leading medical journals including the Lancet, JACC, European Heart Journal, and Cardiovascular Research. CaRi-Heart validation and implementation projects have been supported by multiple UK government grants and awards, including the NHS AI Stage 3 Award for real-world evaluation and implementation of CaRi-Heart care pathway in multiple NHS hospitals. With its deep clinical insights, proven validity and implementation readiness, the CaRi-Heart Analysis Service and the resulting new care pathway can transform cardiac care around the world by aiding in better prediction and prevention of future heart attacks.
About British Heart Foundation
It is only with donations from the public that the BHF can keep its lifesaving research going. Help us turn science fiction into reality. With donations from the public, the BHF funds groundbreaking research that will get us closer than ever to a world free from the fear of heart and circulatory diseases. A world where broken hearts are mended, where millions more people survive a heart attack, where the number of people dying from or disabled by a stroke is slashed in half. A world where people affected by heart and circulatory diseases get the support they need. And a world of cures and treatments we can't even imagine today. Find out more at bhf.org.uk
Follow British Heart Foundation on social media:
Twitter: @TheBHF
Facebook: @bhf
Instagram: @the_bhf
LinkedIn: @British Heart Foundation
About ITN Business: ITN Business is a prominent media organization dedicated to educating, informing, and empowering audiences about diverse health-related topics. Through compelling programming and in-depth reporting, ITN Business aims to raise awareness, foster understanding, and drive positive change in the healthcare landscape.
Follow ITN Business on social media:
LinkedIn: @ITN Business
Twitter, Instagram & TikTok: @ITNBusiness
Facebook: @ITNBusinessUK
###