Oxford-based Caristo Diagnostics bags €14.7M for AI-powered cardiac disease detection; appoints new CEO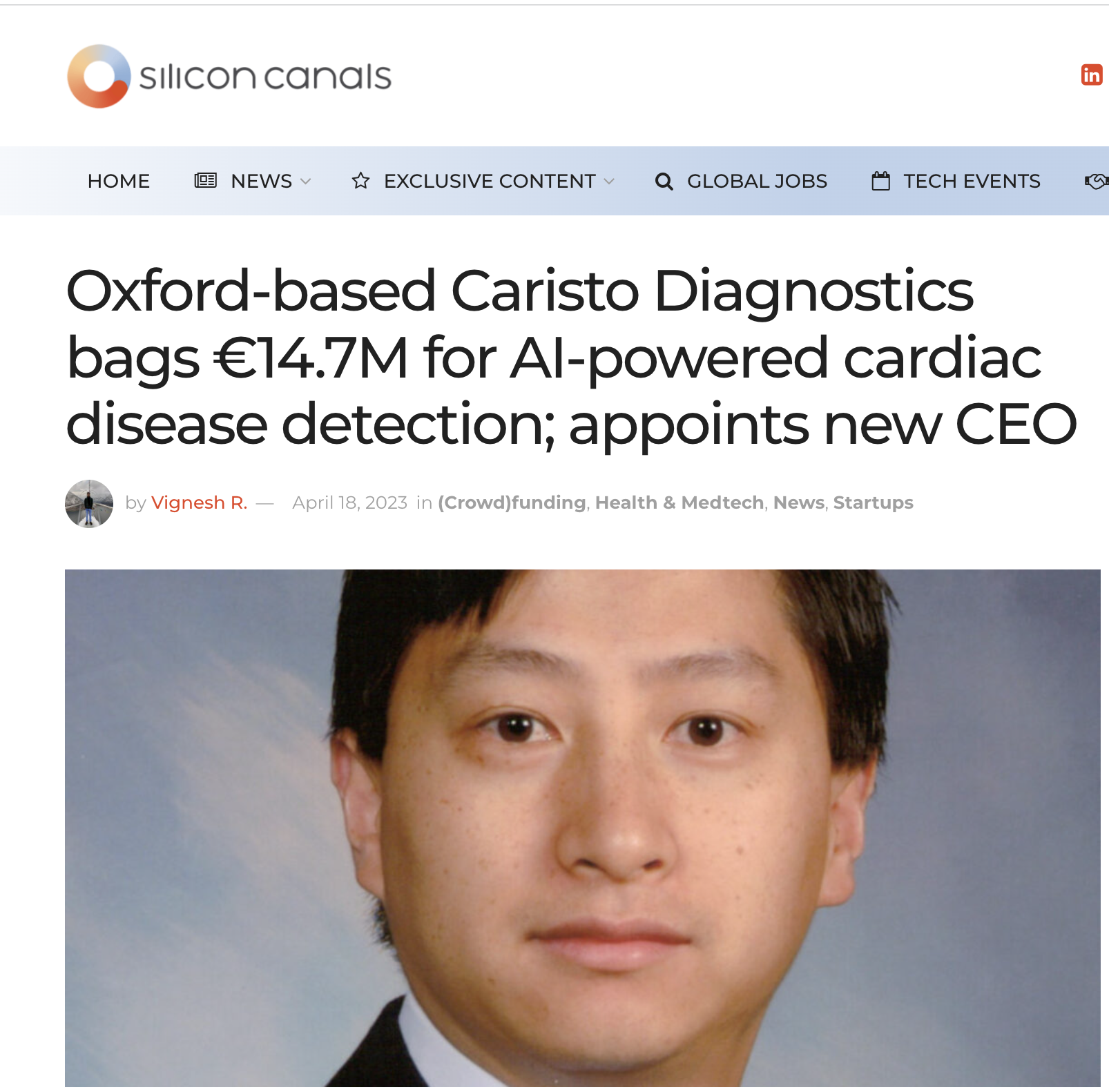 Oxford-based Caristo Diagnostics, a company that specialises in cardiac and vascular disease diagnostics and risk prediction, announced on Monday, April 18, that it has secured £13M (approximately €14.7M) in its Series A financing round.
The company also announced the appointment of Frank Cheng as its new CEO.
The current round was led by Oxford Science Enterprises and joined by BGF, Longwall Venture Partners, Oxford Investment Consultants LLP, Oxford University, and others.
To date, Caristo has raised over £23M (approximately €26M) in venture capital investment.
Caristo says it intends to use the capital to advance its CaRi-Heart technology, an AI-assisted diagnostics and risk prediction tool, into standards of cardiac care in major global markets.
What does Caristo solve?
Cardiovascular diseases (CVDs) are the leading cause of death worldwide, taking an estimated 17.9M lives each year.
These diseases include heart attacks, strokes, and other conditions that affect the heart and blood vessels.
Despite significant advances in medical science, cardiovascular diseases continue to pose a significant threat to public health.
Caristo aims to change this statistic through the delivery of its state-of-the-art coronary disease diagnostic technology.
AI technology for cardiac disease detection
Caristo's flagship product, CaRi-Heart, is a medical technology that uses AI algorithms to obtain measures of coronary inflammation from routine cardiac computed tomography angiography (CCTA) scans.
By utilising Caristo's Fat Attenuation Index (FAI) technology, trained health professionals can get an accurate picture of a patient's risk of cardiac mortality due to coronary inflammation. The resulting FAI Score is a reliable indicator of the level of risk that a patient faces.
The CaRi-Heart technology also provides a long-term cardiac mortality risk by integrating coronary inflammation with standard clinic risk factors and the presence of coronary plaques.
This allows health professionals to gain a comprehensive understanding of a patient's cardiovascular health and make more informed treatment decisions.
The CaRi-Heart Analysis is supported by the CaRi-Heart software, which is cloud-based and agnostic to the type of scanner generating the routine cardiac CT images.
The CaRi-Heart technology is CE Mark certified under the latest EU MDR with UKCA marking being received in September 2022.
Caristo Diagnostics: What you need to know
Caristo Diagnostics Limited was founded in 2018 as a spin-out company from the University of Oxford.
The company has developed a portfolio of imaging-based and AI-assisted platforms that can be applied to aid the prediction and diagnosis of heart attack, stroke, and diabetes.
"We are thrilled that five successful institutional investors participated in the financing round, which validates the vast clinical and business potential of Caristo's innovations," says Oran Muduroglu, Board Chairman of Caristo.
"We are equally excited to welcome Frank Cheng as Caristo's new CEO. Frank led multiple digital health companies during the last twenty years, and most recently was President & CCO of Eyenuk, Inc, a diagnostic company with autonomous AI technology that was FDA-cleared, Medicare-reimbursed, supported by a new Category 1 CPT code, and adopted in eighteen countries," adds Muduroglu.
Oxford Science Enterprises: What you need to know
Oxford Science Enterprises (OSE) is an independent, billion-pound investment company, created in 2015 to found, fund, and build transformational businesses via its unique partnership with the University of Oxford.
"We invest in companies with the potential to revolutionise healthcare and become global category leaders and that is why we are proud to back the incredible team at Caristo," says Heather Roxborough, Head of HealthTech at Oxford Science Enterprises and Caristo Board Member.
"Caristo continues to make tremendous progress in the delivery of its innovative technology to help healthcare professionals predict and prevent future heart attacks and ultimately save millions of lives around the world. We are thrilled to continue being part of the company's journey," concludes Roxborough.
Read the article on Silicon Canals