American Heart Association Late-Breaking Science Presentation Reveals Majority of Adverse Cardiac Events Occur Among Patients Without Obstructive Coronary Artery Disease but Risks Are Detectable by Novel AI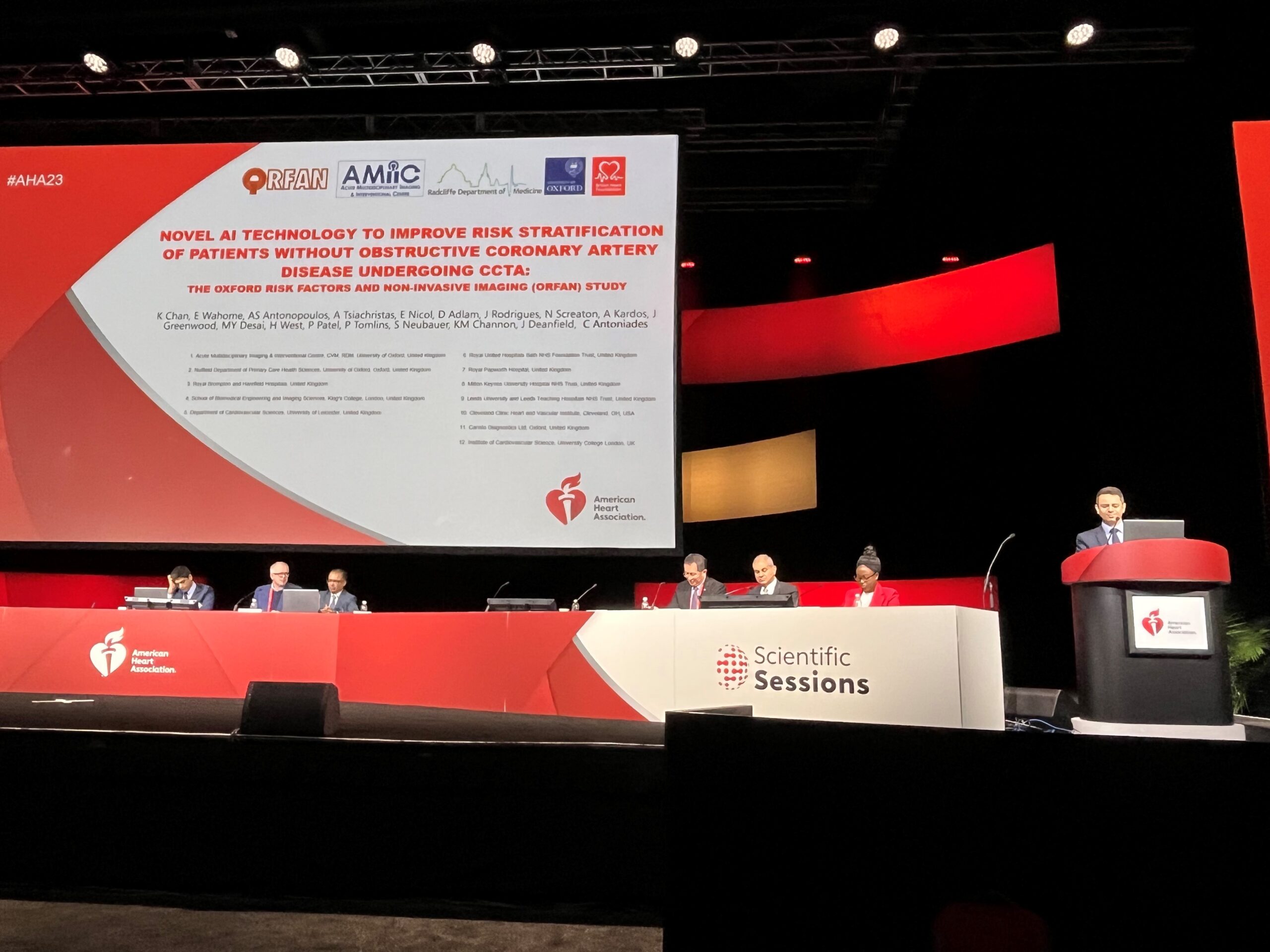 Press Release
Caristo's AI Technology for Coronary Inflammation Measurement and Risk Assessment Can Transform Risk Stratification and Management of Patients
PHILADELPHIA, Nov. 13, 2023 — New research, presented today at the American Heart Association's Late Breaking Science Sessions, has found that AI technology from Caristo Diagnostics can predict fatal and non-fatal cardiac events independently from routine clinical risk scores and coronary computed tomography angiography (CCTA) interpretation, and can significantly impact treatment for coronary artery disease (CAD) by transforming risk stratification and management of patients undergoing routine CCTA.
From the main stage in front of thousands of cardiologists from around the world, Professor Charalambos Antoniades from the University of Oxford delivered the presentation titled "Novel AI Technology to Improve Risk Stratification of Patients Without Obstructive Coronary Artery Disease Undergoing CCTA." Clinical data from more than 40,000 patients were analyzed as part of the Oxford Risk Factors And Non-invasive imaging (ORFAN) study. ORFAN is the world's largest prospective outcomes study designed to evaluate CT imaging biomarkers in predicting long-term cardiovascular outcomes, and currently contains clinical data for more than 135,000 people undergoing routine CCTA scans.
Key study findings include:
Among patients undergoing CCTA, the majority of fatal and non-fatal cardiac events occurred in those who did not have obstructive CAD at the time of imaging. Specifically, there are twice as many heart attacks and cardiac deaths in the group without obstructive CAD versus those with obstructive CAD.
Coronary inflammation, as measured by Caristo's CaRi-Heart® FAI-Score, predicted fatal and non-fatal cardiac events related to all major coronary arteries (LAD, LCx, RCA), independent of routine risk factors and CCTA interpretation (such as CADRADS2.0).
Furthermore, among patients who had no plaque and zero calcium at time of CCTA, those with the most abnormal FAI-Score results in the LAD vessel experienced 11-fold higher risk for cardiac mortality and 5-fold higher risk for major adverse cardiac events (MACE).
CaRi-Heart Risk was used in the ORFAN study as the "AI-Risk" model for patient risk reclassification. CaRi-Heart Risk reclassifies ~30% patients to higher and ~10% patients to lower risk categories, and when presented to clinicians, results in changes of management in approximately half of the patients. Most changes were due to clinicians' decision to target the previously undetected coronary inflammation.
More than 8 million Americans visit hospital emergency departments experiencing chest pain every year. The standard test for these patients, CCTA, searches for CAD caused by the narrowing (stenosis) or blockage (caused by plaque) of blood vessels that supply the heart. But in three quarters of cases, there is no clear sign of significant narrowing at the time of CCTA. Nonetheless, many of these people still die from a heart attack within a few years as a result of small but inflamed plaques rupturing.
"Coronary inflammation is a crucial piece of the puzzle in predicting heart attack risk," said Antoniades. "With this new AI-enhanced technology, we have introduced a new inflammatory risk-driven clinical pathway to prevent overlooking patients with seemingly 'normal' CCTA scans. This AI-driven assessment of inflammatory risk is a major step towards personalised medicine, customising the use of preventive treatments to the patients who need them."
"We are excited to see these exceptional clinical results enabled by our CaRi-Heart technology," said Frank Cheng, CEO of Caristo Diagnostics. "To eradicate heart disease as the number one cause of death globally, it is important for us to realize that people may have heart attack soon after a 'normal' CCTA test showing zero calcium score, no plaque, and no stenosis. The CaRi-Heart technology has the potential to save millions of lives worldwide by improving risk stratification based on CCTA-based coronary inflammation measurement. We look forward to introducing our technology across geographies to transform cardiac care and make heart attacks a preventable reality worldwide."
About Caristo Diagnostics Limited
Caristo Diagnostics Limited is a global leader in cardiac and vascular disease diagnostics and risk prediction. Founded in 2018 as a spin-out company from the University of Oxford, the world's #1 research university, Caristo has developed a portfolio of imaging-based and AI-assisted platforms that can be applied to aid the prediction and diagnosis of heart attack, stroke, and diabetes. Caristo was highlighted by Nature in 2020 as one of the most exciting science-based companies to have emerged from academic labs. To-date Caristo has attracted over £23 million in venture capital investment (nearly US$30 million). Find Caristo online on its website, LinkedIn and X.
About the CaRi-Heart® Technology
Named first of "7 Technologies That Could Change Heart Healthcare Forevermore" by the Robb Report, the CaRi-Heart technology is Caristo's flagship offering, which aids coronary artery disease diagnosis with improved risk prediction. It applies advanced AI algorithms to routine cardiac CT scans to visualize and quantify coronary inflammation, which is the previously invisible root cause of the disease. Each patient's CaRi-Heart report includes several clinical results: (1) the patient-specific Fat Attenuation Index ScoreTM (FAI ScoreTM), a novel and patented biomarker for the measurement of coronary inflammation, which indicates the patient's risk in % relative to a matched peer group; (2) CaRi-Heart Risk, which assesses the absolute 8-year risk of a fatal heart attack (based on both coronary inflammation status and standard clinical risks factors); and (3) coronary plaque-specific characterization and quantification. The CaRi-Heart Analysis is supported by the CaRi-Heart software, which is cloud-based and agnostic to the type of scanner generating the routine cardiac CT images. The CaRi-Heart technology is CE Mark certified under the latest EU MDR, with UKCA marking having been received in September 2022. The CaRi-Heart technology is limited to research use in the U.S. before the FDA grants marketing authorization.
Multiple patents underpinning CaRi-Heart technologies have been granted in major jurisdictions around the world. In addition, exceptional validation results showing CaRi-Heart technology's ability to aid the prediction of heart attacks have been published in leading medical journals including the Lancet, JACC, European Heart Journal, and Cardiovascular Research. CaRi-Heart validation and implementation projects have been supported by multiple UK government grants and awards, including the NHS AI Stage 3 Award for real-world evaluation and implementation of CaRi-Heart care pathway in multiple NHS hospitals. With its deep clinical insights, proven validity and implementation readiness, the CaRi-Heart Analysis Service and the resulting new care pathway can transform cardiac care around the world by aiding in better prediction and prevention of future heart attacks.
###