THE BIOTECHNOLOGY BOOM IN OXFORD: A LOOK AT 15 EXCITING STARTUPS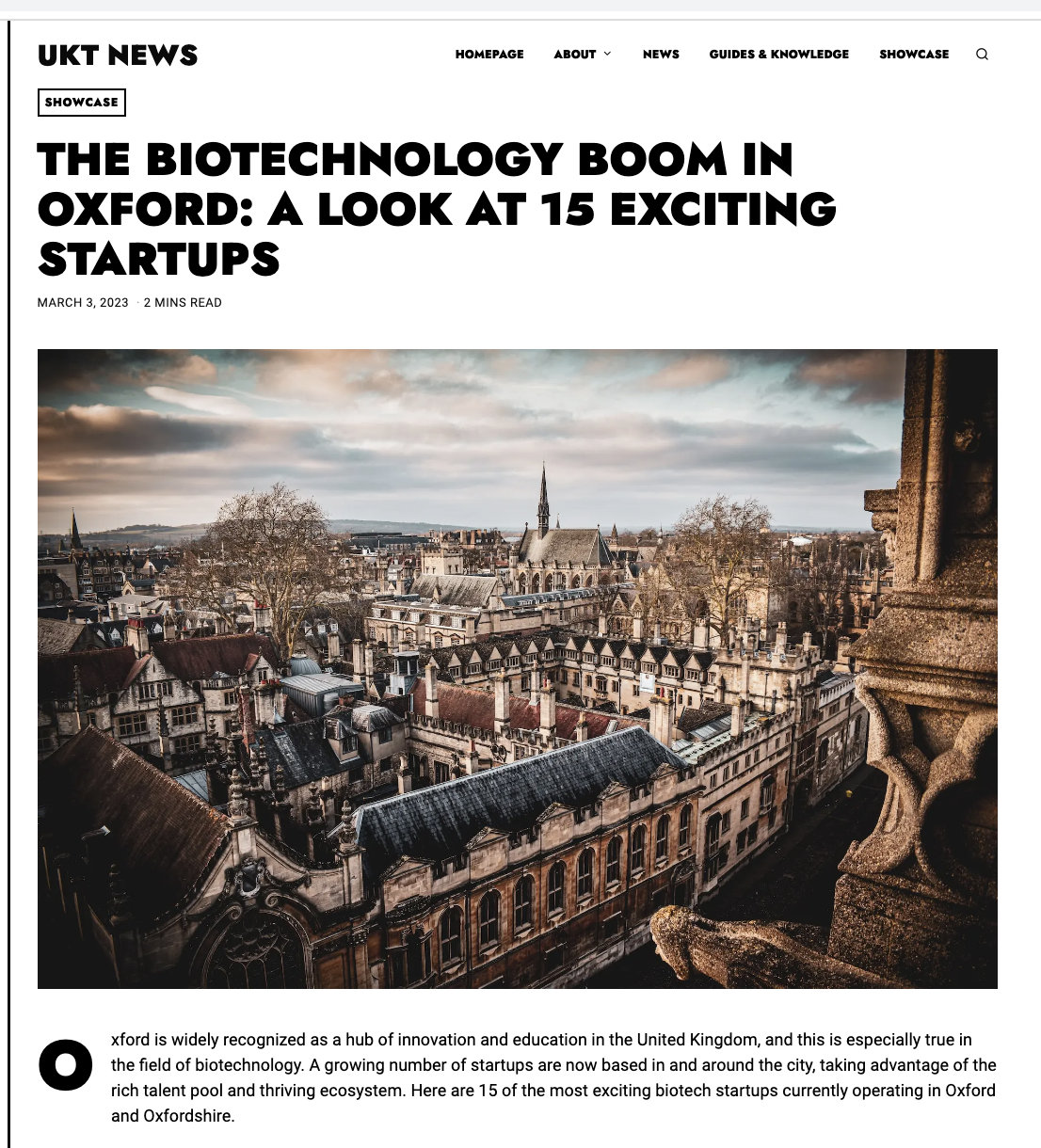 Caristo Diagnostics
Caristo Diagnostics is a startup that is using standard CT scans to identify potentially heart-stopping plaques. Their technology has the potential to revolutionize how we diagnose and treat heart disease, a leading cause of death worldwide.
Oxford Cannabinoid Technologies (OCT)
OCT is at the forefront of the medicinal cannabis industry, combining cutting-edge scientific research with cannabinoid medicine. Their goal is to bring a range of effective and safe cannabinoid-based therapies to market, treating conditions such as chronic pain, epilepsy, and anxiety.
Theolytics
Theolytics is focused on developing oncolytic viral therapies that have the potential to revolutionize cancer treatment. By using viruses that can selectively infect and kill tumor cells, Theolytics is working on next-generation treatments that are both effective and safe.
Refeyn
Refeyn is a startup that specializes in label-free single molecule imaging and mass measurement. Their innovative technology enables researchers to study complex biological systems with unprecedented resolution and accuracy.
Pepgen
Pepgen is a company that is focused on empowering nucleic acid therapeutics to go the distance. They are developing novel approaches to gene therapies, RNA therapies, and other nucleic acid-based treatments, with a particular focus on improving their delivery to target cells.
OxCan
OxCan is using machine learning and liquid biopsy for early lung cancer detection. Their goal is to develop a reliable and non-invasive test that can detect lung cancer at an early stage, when it is still treatable.
Read more from UKT News:
Startup Showcase: PentoPix – Unleashing the Power of 3D Storytelling with AI
GENinCode
GENinCode is a genetic testing business that specializes in the risk assessment and prediction of cardiovascular disease. Their tests use cutting-edge technology to provide individuals with personalized risk assessments, enabling them to take proactive steps to prevent heart disease.
Spintex
Spintex is developing a low-cost and sustainable biomaterial platform for spinning high-performance silk fibers. Their technology has applications in the textile, energy, and sustainability industries, and has the potential to revolutionize how we produce and use materials.
Beckley Canopy Therapeutics
Beckley Canopy Therapeutics is a biopharmaceutical company that is focused on researching cannabis health products. They are exploring the potential of cannabis for treating a range of conditions, including pain, anxiety, and epilepsy.
JUNO Genetics
JUNO Genetics is a state-of-the-art laboratory that is focused on creating an algorithm, techniques, and procedure for a healthy pregnancy. They use the latest technology to provide women with personalized advice and support throughout their pregnancy journey.
OCRA Research
OCRA Research is a biotech company that specializes in synergy by design. Their goal is to develop innovative solutions for the pharmaceutical industry, helping companies to bring new drugs and treatments to market more quickly and efficiently.
Sitryx Therapeutics
Sitryx Therapeutics is developing disease-modifying therapeutics in immuno-oncology and immuno-inflammation. Their goal is to bring innovative new treatments to patients with a range of conditions, including cancer and autoimmune diseases.
Read more from UKT News:
Lights, Camera, Innovation: 15 Exciting Film Production Startups from England
iLoF – Intelligent Lab on Fiber
iLoF – Intelligent Lab on Fiber is focused on enabling a new era of personalized, precision medicine. Their technology uses artificial intelligence and machine learning to analyze biological samples at an unprecedented scale, enabling more accurate diagnoses and more effective treatments.
MiroBio
MiroBio is harnessing the natural control mechanisms of the immune system to develop new therapies for a range of diseases. Their approach has the potential to revolutionize how we treat conditions such as autoimmune diseases, cancer, and chronic infections.
Base Genomics
Base Genomics is an epigenetics company that is focused on developing a blood test for early-stage cancer and minimal residual disease. Their technology has the potential to enable earlier diagnosis and more effective treatment of cancer, improving patient outcomes and reducing healthcare costs.
These 15 biotech startups represent the cutting edge of innovation in Oxford and Oxfordshire. With their unique technologies and groundbreaking approaches, they are poised to make a major impact on healthcare, energy, textiles, and other industries. As they continue to grow and develop, we can expect to see even more exciting breakthroughs from these and other biotech startups in the region.
You can read the full article via UKT News